By Blue-Fire @ July 19, 2011 at 7:41pm

Check out the deals this week to start raising your own perfect pet!
Starwish Charm and Rebirth Stones are on sale from July 20th to July 26th. The Starwish Charm will grant you a prize from the Pet Cards, with the possibility to release the pet that is sealed within, like the new Alraune pet from the Titan Update. Certain pets are only available through their pet card, so whenever you find one, use a Starwish Charm on it and you just might attain a powerful unique pet.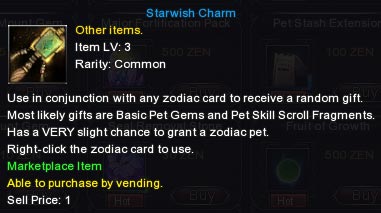 Zodiac Pets, come out and play~

Not all pets are born with their true potential awakened, but you can give them another chance with a Rebirth Stone and Pet Gems. The better the pet quality, the higher growth progression and higher bonus in growth distribution rate it will give you. So don't get left behind while others upgrade their pets, get your very own Rebirth Stone today, your survival against the wild and other players will depend on it.




Shift to a new gear of butt kicking by rebirthing your pet!